Duchess Youth have the opportunity to attend Wilderness Ranch Camp near Claresholm from August 13-18 and benefit from our group rate of $200/person, which is half off the regular fee. Furthermore, when youth help fundraise through the bottle drive or other efforts, their contributions will be deducted from the inital cost! In other words, the more they fundraise. the less they pay to attend.
Those who are helping with the bottle drive will meet at the church for 6 pm on Tuesday, July 31. We will then split into teams and start fundraising!
More info on the trip:
Wilderness Ranch Camp
Where God's Grace Runs Free!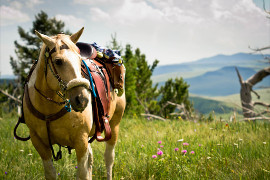 Our Mission:
To provide in a wilderness setting a program of education and fellowship where faith and trust in Jesus Christ is integrated into daily living.
The Experience:
Eat delicious meals that you have helped cook over open fires. Enjoy the beautiful and historic rangeland of Southern Alberta from the back of a horse. Trail Ride, play games and make new friends. Worship God under starry skies around a blazing campfire. You will remember a week at Wilderness Ranch for the rest of your life!!
Above details and photo obtained from the camp website.